Boat is a specific method of passing parts with a risk of falling into freeze. It's more a non-standard way; the use of it very rarely is an intention of a mapper. That's usually used to simplify hard, faily parts or rescue tees that have already failed. Nevertheless it's tiring and long method with different risk of fail (depending on amount of tees under tee-controller).
Performance
Edit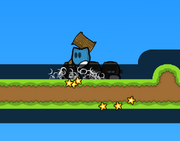 It requires at least 3 players: 2 located in freeze and 1 controller that floats on them. The controller has to hook one tee located maximally on the right or left. Then he must move to the last tee situated at the opposite direction. Repeating it should slowly move frozen tees to the target direction.
Important: freeze must have max. 1 block high.